'Highly Commended' award for innovation
With great innovating products come well-earned accolades!
Congratulations to our Sales Manager Lisa White who impressed the judges at a recent Insitute of Water Innovation event.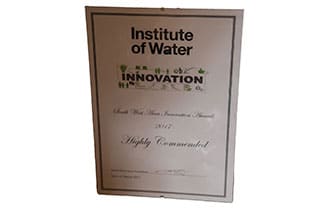 Lisa highlighted some key technological advances found in our market-leading leak pinpointing correlation logger, the Enigma3m.
This product first became successful in the UK market last year when it was the only fixed network device that was proven to operate fully underground, giving impressive leak pinpointing. It's winning feature, that stood out against 8 other strong entrants, was its highly innovative radio frequency time synchronisation function allowing impressive correlation over distance.
The award for Lisa's presentation was the only commendation to be made at the South West Institute of Water Innovation heats and Primayer Limited are extremely proud of this achievement.
The Enigma3m's success story is an incredible boost for the company and the uptake of this product has been impressive.
How the Enigma3m is finding leaks worldwide
Smart night sensors, minimise leakage water loses in Sanlúcar, Spain
Primayer has been busy this summer and the results have been remarkable. Our Spanish partner Panatec were tasked by their customer, Aqualia  to achieve a more environmentally friendly service by reducing the volume of water lost through pipe breaks in Sanlúcar, Spain. This was a particularly difficult challenge due to the busy narrow streets in the city which afforded limited vehicular access for technicians. This difficulty was overcome by being able to install and leave our leakage detection equipment underground with remote data accessible via the cloud.
The project was initiated by dividing Sanlúcar supply network into areas or sectors; Castillo, La Jara, Bonanza-La Algaida, Martín Miguel, Polígono Rematacaudales, Pradillo, El Palomar and Capuchinos. the team deployed a combination of our remote data loggers, the Phocus3m and our market leading correlating leak pinpointer the Enigma3m.
After only a few days the data results highlighted the presence of two major leaks, proving our technology to be highly effective in a very short time frame. The leaks have been subsequently fixed and further deployments are now planned.
The image below shows PrimeWeb data showing a significant correlation. This was a large leak found to be 0.85 cubic meters per hour and at €0.30 cost per cubic meter, this equated to a saving of €2,200 a year.  This project has successfully demonstrated that ongoing active leak detection is achievable even in the most challenging of situations.

Read the full article published in Spain, here.
Next hottest innovation
Following the overwhelming success of the Enigma3m multi-point noise correlation system, we are introducing a new Enigma family member,  the Enigma3hyQ.
This product has been optimised for leak location over longer distances, on large diameter pipes and plastic pipes in water distribution networks.
It is deployed in underground chambers and requires no costly above ground technology.  Further news coming soon.